Adult Ministries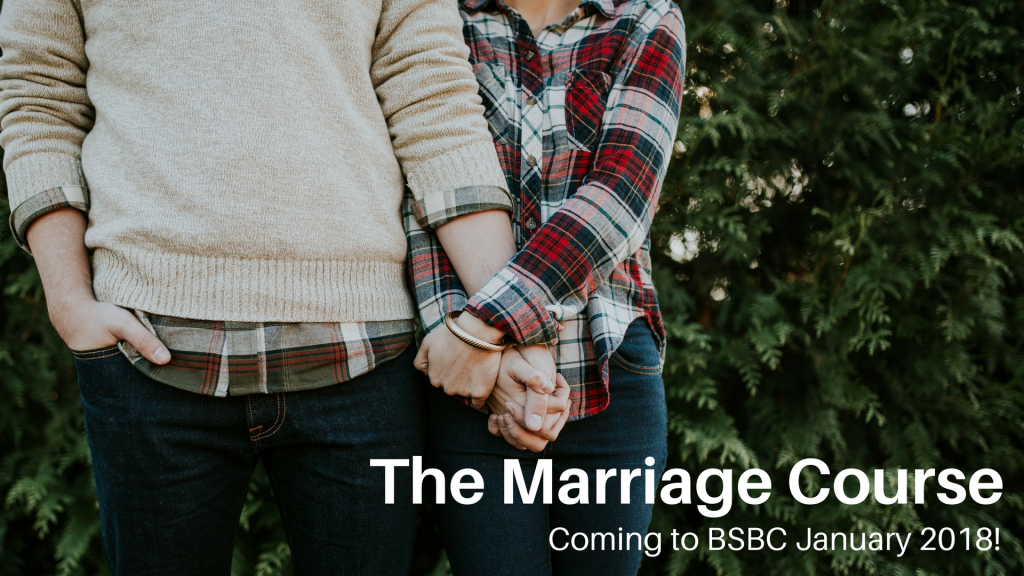 The Marriage Course was developed for couples looking for practical support to enrich their relationship. Over six evenings, the course will help you to understand each other's needs, communicate more effectively, grow closer by learning methods to resolve conflict — and much more!
Who is it for?
The Marriage Course
is for married couples seeking to strengthen their relationship. The course offers practical ideas and tools to help keep your relationship strong based on Christian principles, but designed for all couples with or without a church background.
What can we expect? You're seated at your own table for two. Each session consists of dessert and drink, a video and a time for private discussion between you and your partner. Background music ensures that you can chat in complete privacy. You never share anything about your relationship with anyone other than your partner. No one will put you on the spot!
Who's leading the course? You'll be in good hands with Naomi & Eric Robert. Tentative plans are to start on Sunday evening, January 21; but we're working out a location for the six consecutive evenings. This is wide open to the community – share this offering with couples you know.
Wednesday's in the Word
Adults can look forward a unique opportunity to share the ALPHA experience.
Our Winter 2018 Wednesdays in the Word will feature the ALPHA videos followed by discussion lead by Mary Tingley. We offer this study at this time especially for those who are believers and would like to have their faith encouraged and grown by participation in this worldwide ministry.
Starting Wednesday, Jan. 10, 6:30 p.m. in the Family Room you'll explore the following topics: Is There More to Life Than This? (Jan. 10), Who is Jesus? (Jan. 17), Why Did Jesus Have to Die? (Jan. 24) and How Can I Have Faith? (Jan. 31), etc.
Sunday School
Starting Sunday, Jan. 7 at 9:30 a.m. we invite you to grow in your faith by joining with other adults to study together. There's a class for everyone!
Allowing the Scriptures to Speak to Us through the Book of Acts
"Allowing the Scriptures to Speak to Us through the Book of Acts" is an interactive study offered by David Clark in the Counselling Centre above the Gym. David writes, "Each week you will study a chapter of this marvelous New Testament book focusing on what themes arise. By looking at these themes throughout the book, the overall message should become clearer and clearer and allow participants to hear God speak."
Faith Weavers
Scott Myles will lead you through passages from the Bible as you seek to understand the truth of God's Word and apply it to your life. The passages chosen for study are the same passages studied by our children and youth in their Sunday School classes — but you don't have to be a parent to attend! (Family Room)
The Power of a Praying Parent
Rosa McEwing and Dawn McNiven will lead you through a study based on the powerful book by Stormie Omartian. This class offers parents, with children of all ages, the opportunity to consider the power of prayer to bring blessing and growth in the lives of both parent and child. (Third Floor Boardroom)
Asian Bible Study Class
David Whyte uses the Bible to help participants journey and grown in their faith while learning the English language. (Main Boardroom, above the Main Kitchen)
Fellowship
 Men's & Women's Prayer Breakfasts
Thursdays, 7 a.m. at the Coffee Mill restaurant
Both women and men meet in separate groups Thursdays at 7 a.m. at the Coffee Mill restaurant.
 Seniors Luncheon
3rd Monday of the month, 12 p.m. in the Gym
All seniors are invited to the church gym at noon for a wonderful hot luncheon, fun 'features', a brief devotional…and a warm welcome!
 Home and World Missions Myrtle Burden Mission Circle
Mondays and Thursdays, 1 p.m. in the Quilting Room
This group of ladies meets in the Quilting Room to quilt together the final layers for customers – proceeds go to missions!
 Women's Missionary Societies – Harriet Clark WMS
2nd Monday of the month, 2 p.m. in the Family Room
Our WMS groups would be pleased to welcome you!
 Women's Missionary Societies – Marguerite Mitton WMS
2nd Monday of the month, 7 p.m. in the Family Room
Our WMS groups would be pleased to welcome you!