First Visit
Welcome to BSBC! We're so happy to have you.
Here's what to expect when you attend one of our services. If you have any other questions, don't hesitate to give us a call, send us an email or get in touch with us on Facebook.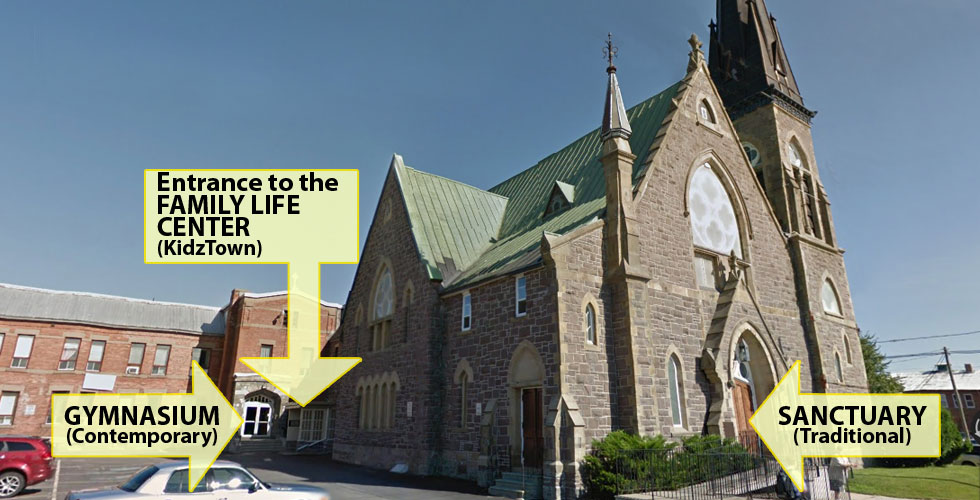 Three worship services
Sunday mornings at BSBC we offer different expressions of worship to provide people with choice, but we're all ultimately directed to the one true God.
Our traditional service takes place in the main sanctuary. Hearty congregational singing is accompanied by organ and piano and led by our sanctuary choir.
Our contemporary service is held in our gym. Musicians from our congregation share their musical gifts through our worship team ministry. The sermon is video fed to the gym from the sanctuary — connecting the two services.
Our Kidztown service takes place on the 2nd floor of our Family Life Centre, where our elementary-aged children (grades K-5) meet for their own unique worship time.
After morning worship, we meet in the gym for coffee and a time of fellowship.
Planning your visit
Where should I park?
We're located on the corner of York and Brunswick Streets in the heart of downtown Fredericton. We offer parking in our York St. and George St. lots, but if they're full you can park along George St. or in the Brunswick Street Parking Garage.
Where do I go?
Feel free to enter any door of our building. One of our greeters will be happy to help you find your way.
What should I wear?
Just be you! Some people will be in business casual, but many will be in jeans and a tshirt.
How long will church last?
Our services are usually 60 to 75 minutes.
Will you ask me for money?
Each Sunday, we have a time in our service where our members and regular attendees give to support BSBC's mission and ministries. If you're visiting with us, we're just thrilled to have you — consider this on us!